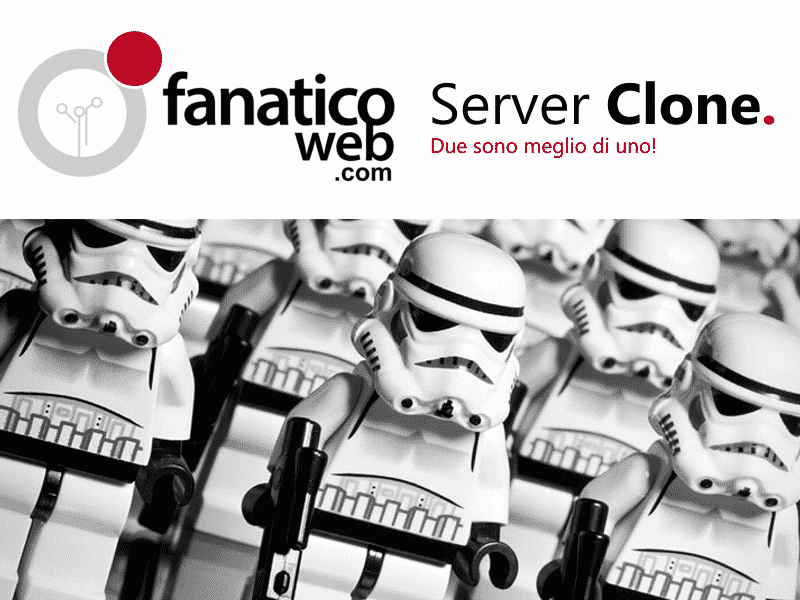 What is a Clone server and what is its purpose?
The Clone server is nothing more than an exact copy of the Main server, in other words, the primary server that you will use for your domain, applications, and email services. Of course, we are not talking about a backup system, but another server, a parallel unit usually active in a different location from the one used for the Main server. For example, if your Main server is located in the United States, your corresponding Clone server is located in Europe or vice versa, on another continent, which means maximum security and high uptime.
Furthermore, the Clone server has the function of cloning, as its name implies, your account and related domains, including web space, files, emails, users, etc. – in short, everything that is active on the Main server. The Clone copy can be requested directly whenever you need it, perhaps after a modification to the site, or in the absence of your requests, our Managed Hosting Chief active in each account and domain will take care of the cloning periodically in random mode.
Each server has its backup service with a frequency that varies from daily copy to twice a week, scheduled copies during the night; this is the classic backup of data, accounts, files, databases, pending emails, etc. The Clone service is still a copy, but this copy is online and live on another server, a sort of "backup" that, in case of emergency, or extraordinary maintenance of the Main server, is ready to replace it to avoid restoration time and downtime.
What are the advantages? The first advantage is that it is a service included in all hosting plans, so it is not a small thing. Secondly, if necessary, the Clone server takes the place of the Main server, replacing it within a few minutes by simply pointing the IP from the Main to the Clone (in case of a Nameserver change, it takes a bit longer for the propagation of the new DNS). This guarantees service continuity even in the most critical cases. Thirdly, in addition to the online data and backup copies on the Main server, there are two more copies on the Clone server, one online and live, and a second backup copy also on the Clone server. Moreover, both servers have a backup copy on a dedicated remote storage system located on a third system and location. In summary, each site is copied and cloned six times on two separate servers and data centers plus one remote storage. Finally, each system unit takes a bi-weekly snapshot of the entire server – better than what they did with Dolly!
Two servers at your disposal, for the security of your site!
For information, contact us: info@fanaticoweb.com